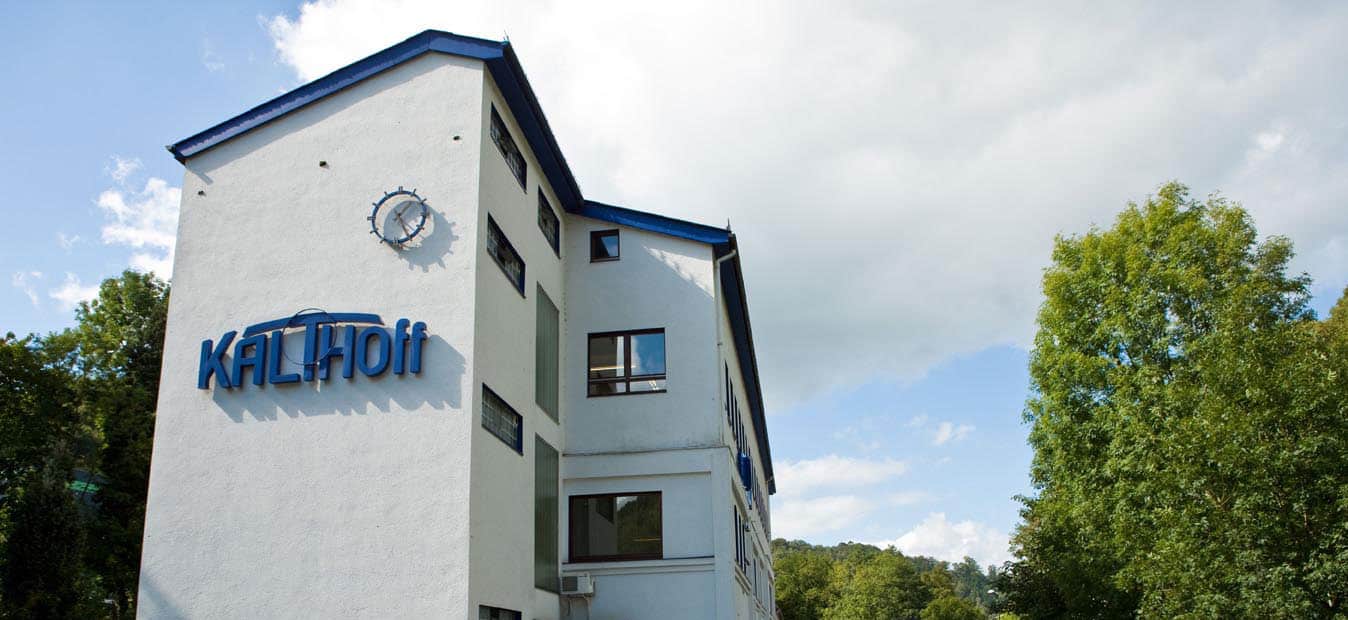 About us
KALTHOFF ist ein innovatives Elektrotechnik-Unternehmen mit Sitz in Schalksmühle in Nordrhein-Westfalen.
Das mittelständische Familien-Unternehmen entwickelt und produziert seit 1931 qualitativ hochwertige Produkte der Installationstechnik.
KALTHOFF ist der erste Hersteller von Vollgummi-Steckvorrichtungen in Deutschland. Viele innovative Erfindungen und Entwicklungen von KALTHOFF im Bereich Steckvorrichtungen waren Grundlagen für heute aktuelle Produkte und Normen.
Heute stellt KALTHOFF das weltweit umfangreichste Vollgummi-Steckvorrichtungsprogramm her und produziert eine große Vielfalt an elektrotechnischen Installations-Produkten. Mit kreativer Ideenfindung werden individuelle Lösungen und Systeme für Kundenanforderungen entwickelt und gefertigt. Mit einer Exportquote von 45% werden Kunden in aller Welt bedient.
Philosophie Ι Philosophy
We see ourselves as a company that is highly oriented towards customer satisfaction. When fulfilling customer wishes, we place a high value on quality and functionality.
We strive for constant further development and improvement of our products and all company processes and work increasingly innovatively according to this understanding.
Providing secure jobs is a serious concern for us, in order to create secure social conditions for our employees and their families and to do our utmost to strengthen "Germany as a business location".
In all company processes, we try to meet our Christian ethical standards by correct and honest procedures, both within our own company and in all business processes and trade relations.
Qualität Ι Quality
KALTHOFF is highly committed to quality and the environment. For this reason, a quality management system was already introduced in 1996 to provide proof of the implementation and maintenance of high quality standards. This is evidenced by the current DIN EN ISO 9001 certificate.
You can find our quality policy under the following link.
KALTHOFF is an active member of the VDE, ZVEI and GFI and thus underlines its claim to produce quality and safe products that comply with standards.
Bonität Ι Credit Rating
KALTHOFF's creditworthiness is of great importance to our suppliers and customers!
Our current Creditreform creditworthiness index of 123 an "excellent creditworthiness" (18.19.2022).
The corresponding PD (probability of default) for this credit rating is 0.03%. The average in Germany is 1.06% (June 2022).
Due to this excellent credit rating, we are qualified for the CrefoZert credit rating certificate. 1.7% of German companies that have an exceptionally good credit rating! We are thus one of the 1,7%.
Based on its creditworthiners analysis, the DEUTSCHE BUNDESBANK also confirmed our eligibility with its certificate dated 01 July 2021.
We are pleased about this and thus underline our claim to be a solid partner for customers and suppliers.
Verantwortung Ι Responsibility
KALTHOFF is highly committed to social responsibility. For this reason, KALTHOFF applies the "Code of Conduct" of the ZVEI in a self-committed manner. It is the business basis of our social responsibility according to ISO 26000:2010. You can download the "Code of conduct" in different languages here:
Mitarbeiter Ι Employees
Our employees are committed, motivated and give their best every day!
This is the only way to implement your wishes and requirements quickly and flexibly. KALTHOFF is a training company. Thus, we consciously build up skilled workers, for our also company, and take our responsibility in our society seriously.
Long-standing, experienced and reliable employees are KALTHOFF's most important asset. For this reason, we offer family-friendly working conditions in order to enable the balance between work and private life.
Zukunft Ι Future
KALTHOFF faces the challenges of the present and the future. We meet global change with innovative ideas, inventions and developments.
Our special product and service portfolio enables synergies that help you to continue to be successful with your products. Developments for our customers from a wide range of industries show that KALTHOFF is also a profitable partner for you, also in the future.
25 Gründe Ι Reasons
1. you benefit from over 90 years of experience
2. creative, competent and innovative solutions are our strength
3. we are an owner-managed family business
4. our high-quality products are made in Germany
5. you benefit from our longstanding and competent employees
6. our complaint rate is less than 0.01%.
7. our delivery reliability is over 99%
8. since 1996 we are certified according to DIN EN ISO 9001
9. we take data protection seriously
10. we deliver "endurance runners" within 24 hours – and not only for stock items
11. we make our comprehensive knowledge of the industry available to you as a matter of course
12. honest and fair dealings with customers and suppliers are the basis of our business
13. we advise you on technical questions
14. we are an active member of the VDE, ZVEI and GFI
15. you benefit from our solid corporate structure
16. we are a family-friendly company
17. many customers appreciate us as their supplier for special solutions
18. we develop optimal solutions for you
19. you benefit from an attractive product and service portfolio
20. Creditrefom certifies us an "excellent creditworthiness" (27.09.2021)
21. the Deutsche Bundesbank classifies us as "eligible" (01.07.2021)
22. we are a socially committed company
23. we use our resources responsibly
24. we regularly support charitable organisations
25. we have 24 reasons why KALTHOFF is your strong partner!
2021

KALTHOFF wird 90 Jahre! Geprägt ist dieses Jubiläum von der Pandemie, extremen Preissteigerungen und Lieferzeiten, Hochwasser und trotz aller Umstände dem höchsten Umsatz der Unternehmensgeschichte.

2020

Das Produktportfolio "Mobile-MID-Stromzähler" wird stark erweitert und innovativ den aktuellen Marktbedürfnissen angepasst.

2019

Die Cable- und Gehäusekonfektion wird erweitert und durch neue Fertigungsmaschinen modernisiert.

2018

KALTHOFF stellt die DIN ISO 9001 auf die aktuelle Fassung 9001:2015 um.

2016

Die Kabelkonfektion wird nochmals vergrößert. Ein wichtiger Schritt um weiterhin die steigende Nachfrage schnell und flexibel zu bedienen.

2012

Das Hotmelt-Fertigungsverfahren wird integriert. Eine konsequente Erweiterung der Fertigungsverfahren, um Kundenanforderungen schnell und wirtschaftlich erfüllen zu können.

2009

Die eigene Kabelkonfektion wird erweitert und modernisiert, um flexibler und schneller Kundenwünsche zu realisieren..

2008

Die Gummiformteile-Produktion wird erweitert. KALTHOFF entwickelt ein innovatives Fertigungsverfahren welches die Gummiumspritzung von Gummileitungen ohne Haftvermittler ermöglicht.

2006

Hartmut Tertel zieht sich mit 65 Jahren aus dem operativen Geschäft zurück, steht dem Unternehmen jedoch weiterhin beratend zur Verfügung.

2003

Gundolf Tertel wird als 2. Geschäftsführender Gesellschafter in 3. Generation berufen.

2002

Die Betriebsgebäude werden erneut erweitert. Ein wichtiger Schritt, um für die Zukunft gerüstet zu sein.

1996

KALTHOFF erlangt die Zertifizierung nach DIN EN ISO 9001.

1990

Seit den 90er Jahren gehören Steckvorrichtungen aus Thermo- und Duroplast, Kabel und Leitungen sowie die individuelle Produktentwicklung von Kundenlösungen fest zum Produktprogramm von KALTHOFF.

1988

Durch den Kauf einer angrenzenden Immobilie werden Produktions- und Lagerfläche umfassend erweitert.

1983

Alfred Kalthoff tritt nach 52-jähriger Geschäftstätigkeit in den Ruhestand.
Als Nachfolger wird das Familienmitglied Hartmut Tertel im selben Jahr als Geschäftsführender Gesellschafter berufen.

1972

Das Gebäude in der Grabenstrasse wird aufgestockt und umfassend erweitert.

1968

Die Entwicklung fokussiert sich auf die Produktion und den Vertrieb von Vollgummi-Steckvorrichtungen. Die Produktion von Schaltern und Steckdosen wird eingestellt.

1959

Das Unternehmen zieht in ein neu erworbenes Betriebsgebäude am jetzigen Standort Grabenstrasse um.

1951

Als erster Hersteller in Deutschland, produziert KALTHOFF hochwertige Vollgummi-Steckvorrichtungen.

1948

Die erste Teilnahme an der Hannover-Messe erfolgt – mit einem Musterkoffer!

1936

Eine weitere Produktionstätte wird in Freudenberg bei Siegen in Betrieb genommen.

1931

KALTHOFF wird von Alfred Kalthoff gegründet. Das Unternehmen stellt, wie viele Unternehmen in Schalksmühle, Schalter und Steckdosen aus Porzellan und Preßstoff her.
Hotline +49 (0)2355 5084-0     •     

Fax +49 (0)2355 5084-50     •     

info@kalthoff-elektro.de     •     © KALTHOFF GmbH 2022
Hotline +49 (0)2355 5084-0     •     
Fax +49 (0)2355 5084-50